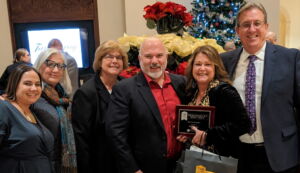 Baltimore Sun Media named COMSO a Top Workplace 2019, marking the second year in a row that COMSO has been honored. The awards were announced in a special insert to the Baltimore Sun on Sunday, December 8, 2019.
The region's top employers were ranked based on the results of confidential surveys of their employees. 82 percent of COMSO's employees responded to the survey, conducted by The Sun's research partner Energage for two weeks in June. The anonymous survey's questions measured the organization's long-term potential based on cultural drivers such as whether employees feel appreciated, feel their jobs are meaningful, are kept informed, and believe that COMSO operates on strong values. 
COMSO's scores overall and in most categories improved significantly since last year. Employees offered over 140 comments in the survey. COMSO analyzed the scores, the trends, and the comments to inform corporate planning for 2020.
COMSO's owner, Jacqui Magnes, uses the employee feedback to foster a culture that is focused on employee engagement. Employees are encouraged to seek opportunities for personal and professional growth and development.