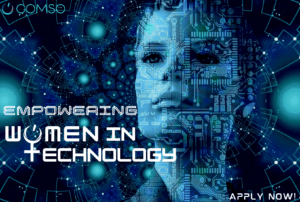 COMSO is a Woman Owned Small Business (WOSB) with a vision of 'Together we will make it happen'. That vision is intertwined with our core foundation of Giving Back. The COMSO Empowering Women in Technology Scholarship combines our vison and core foundation by providing a one-time payment of $2,500 to an accredited school that will start a young woman's path to a career in Technology. COMSO's Empowering Women in Technology Scholarship hopes to change the statistics by encouraging young women to pursue a career in a Technology field. Scholarship money may be applied towards tuition, books, fees, and other academic-related costs and will be assessed based on post-award discussions with the scholarship recipients. 
To be considered for the scholarship, a completed application and all supporting documentation must be received by COMSO no later than April 1, 2023. All materials must be submitted via email to: scholarship@comso.com. 
Check back on January 1, 2023, for details and the Empowering Women in Technology Scholarship application.